Alisha Sial
Physician Assistant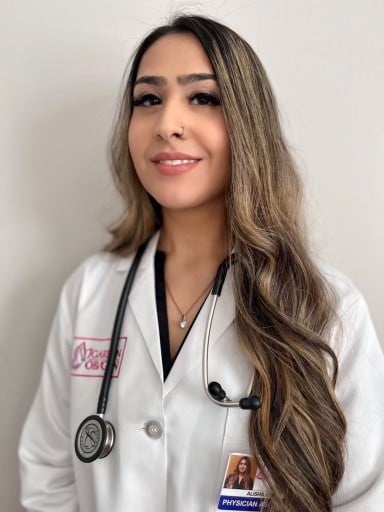 Physician Assistant, PA-C
About Alisha Sial, PA-C
Alisha Sial is a highly skilled and compassionate Women's Health Physician Assistant at Garden OB/GYN, a trusted healthcare provider specializing in obstetrics and gynecology. With her exceptional clinical acumen, extensive experience, and genuine dedication to women's health, Alisha is committed to providing outstanding care and promoting the well-being of her patients.
Alisha Sial is certified by the National Commission on Certification of Physician Assistants (NCCPA) and actively engages in professional development to stay at the forefront of advancements in women's health.
Expertise in Comprehensive Women's Health Care
With her extensive expertise in women's health, Alisha offers a comprehensive range of services tailored to meet the unique needs of each patient. She specializes in providing high-quality care in areas such as prenatal care, gynecological exams, family planning, contraception, menopause management, and more.
Alisha adopts a patient-centric approach, taking the time to understand her patients' concerns, preferences, and goals. She believes in fostering open and honest communication, creating a comfortable and supportive environment where patients feel empowered to actively participate in their healthcare decisions.
Collaborative Care and Patient Advocacy
As a Women's Health Physician Assistant at Garden OB/GYN, Alisha works collaboratively with a team of skilled healthcare professionals, including OB/GYN specialists, nurses, and support staff. Together, they provide comprehensive and integrated care to ensure the best outcomes for patients.
Alisha is a strong advocate for women's health and believes in the importance of education and prevention. She emphasizes the significance of routine screenings and encourages her patients to adopt healthy lifestyle practices. Alisha empowers women to take charge of their well-being by providing the necessary information, resources, and support they need to make informed decisions about their health.
Representing Garden OB/GYN
Alisha Sial proudly represents Garden OB/GYN, a leading healthcare provider committed to delivering exceptional women's health services. With a network of locations throughout NYC, Queens, and Long Island, Garden OB/GYN offers convenient access to comprehensive obstetric and gynecological care.
As a representative of Garden OB/GYN, Alisha embodies the organization's core values of compassion, excellence, and patient-centered care. She strives to provide a warm and welcoming environment where patients feel valued and supported throughout their healthcare journey. Alisha continuously seeks to enhance her knowledge and skills to offer the most advanced and evidence-based care to her patients.
If you are seeking a Women's Health Physician Assistant who combines clinical expertise, compassion, and a patient-centered approach, Alisha Sial at Garden OB/GYN is dedicated to providing exceptional care and guiding you towards optimal health and well-being.
---