Dr. Melissa Jane Nicosia Kurian
OB/GYN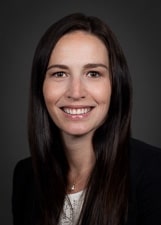 About Dr. Melissa Kurian, MD
Dr. Melissa J. Nicosia Kurian has emerged as a dynamic force in the realm of women's health, combining a profound commitment to patient care with an unwavering dedication to medical advancement. Her journey from Clemson University to prestigious institutions like NYU School of Medicine and Virginia Mason Hospital has forged a remarkable path, enriched by accolades, research, and transformative leadership.
Dr. Nicosia Kurian's foundation of excellence was established at Clemson University, where she earned a Bachelor of Science in Biosystems Engineering with a concentration in Biotechnology, graduating Summa Cum Laude with Departmental Honors. She continued her pursuit of excellence at Georgetown University School of Medicine, earning her Doctor of Medicine Summa Cum Laude.
After her medical education, Dr. Nicosia Kurian embarked on a journey of expertise, completing her Internship and Residency in Obstetrics and Gynecology at NYU School of Medicine/Bellevue Hospital Center. She then honed her skills further with a Minimally Invasive Gynecologic Surgery Fellowship at Virginia Mason Hospital, focusing on advanced techniques in vaginal, laparoscopic, and robotic surgery under the mentorship of Dr. Linda Mihalov.
Dr. Nicosia Kurian's leadership is marked by her major administrative roles. As the Chair of Obstetrics and Gynecology at Mather Hospital within the Northwell Hospital System, she has shaped the landscape of women's health. Her role as Director of Gynecology at Woodhull Hospital, an NYU-affiliated institution, exemplified her commitment to comprehensive patient care.
Her dedication to medical education has led her to serve as an Assistant Professor at the Donald and Barbara Zucker School of Medicine at Hofstra/Northwell. Prior to that, she held the position of Assistant Clinical Professor at NYU Department of Ob/Gyn. Dr. Nicosia Kurian's dedication to shaping the next generation of medical professionals underscores her commitment to the advancement of healthcare.
Dr. Nicosia Kurian's contributions have not gone unnoticed. Her excellence in innovation earned her the Excellence in Innovation award at Woodhull Hospital, while her compassionate care was acknowledged with the Clarel Antoine Award. Additionally, her commitment to education and leadership was recognized with the Medical Student Outstanding Teaching Resident award.
Beyond her clinical endeavors, Dr. Nicosia Kurian is an avid researcher and presenter. Her research has been presented at prestigious medical conferences, shedding light on topics ranging from minimally invasive surgery techniques to enhancing patient recovery after surgery. Her commitment to advancing medical knowledge is evident in her contributions to the field.
Dr. Melissa J. Nicosia Kurian's journey is an embodiment of compassion, expertise, and empowerment. Her tireless dedication to women's health has transformed lives and inspired medical professionals. With her leadership, expertise, and commitment to innovation, she continues to elevate the field of obstetrics and gynecology, shaping the future of healthcare for generations to come.
---