Dr. Michael Terrani
OB/GYN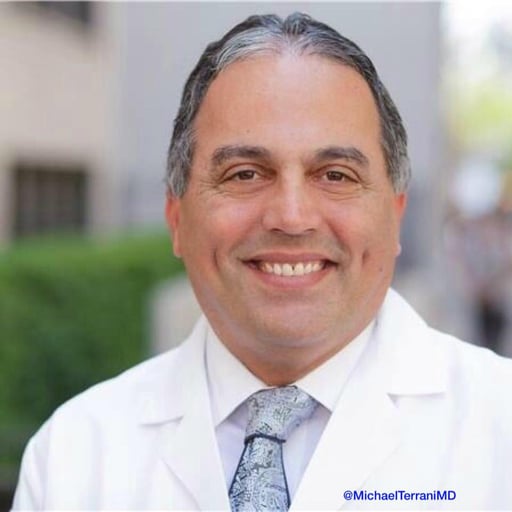 About Dr. Michael Terrani, MD
Michael Terrani, MD, FACOG, is an accomplished physician and researcher specializing in obstetrics and gynecology with a focus on improving safe delivery through total fetal care.
He's the director of medical practice at Garden OB/GYN, a world-class clinic with locations in Midtown West, the Upper East Side, and the Upper West Side of Manhattan, as well as Forest Hills, Garden City, Lake Success, Massapequa, Commack, and Cedarhurst, New York.
A compassionate doctor who is committed to providing outstanding medical services, patient education, and a personalized approach to health care, Dr. Terrani has led Garden OB/GYN to become one of the most highly regarded OB/GYN practices in the state of New York. His research into the contributing factors and preventive measures involved in preterm births has allowed Garden OB/GYN to consistently achieve a premature birth rate that is lower than the national average.
At Garden OB/GYN, the obstetrics team works closely with you on a birth plan in the months leading up to your expected delivery date. Dr. Terrani's mission to decrease preterm births and stillbirths is reflected in his ongoing dedication to medical research. He presented abstracts at the International Society of Obstetrics and Gynecology in Rome, Italy, in 2016. The same year, he received the Fetal Research Award from the East European School of Medicine. Recent publications in medical journals include research on the cost-effectiveness of universal screening and specific treatment regimens, as well as a study of universal cervical length screening and its impact on reducing preterm births.
Dr. Terrani earned his medical degree from the world-renowned Hebrew University Hadassah Medical School, Jerusalem, Israel. He completed residencies at the Albert Einstein College of Medicine, Bronx, New York, and the Long Island Jewish Medical Center, Hyde Park, New York. Dr. Terrani holds privileges at a number of hospitals, including NYU Winthrop Hospital in Minneola, New York, and North Shore University Hospital in Manhasset, New York. He is a member of the American Congress of Obstetricians and Gynecologists, America's OB/GYN Board Review Course, and the American Institute of Ultrasound in Medicine.
Dr. Michael Terrani's Blog Posts
---