Dr. Teresita Santiago
OB/GYN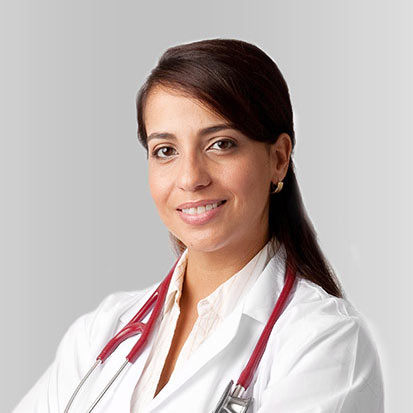 About Dr. Teresita Santiago, MD
The world of women's health has been illuminated by the dedication and expertise of Dr. Teresita D. Santiago Escalera. A beacon of excellence in the field of obstetrics and gynecology, Dr. Santiago has not only exhibited unparalleled medical proficiency but has also demonstrated her unwavering commitment to education and research.
Dr. Santiago's journey in medicine has been a testament to her commitment to her patients' well-being. As a Physician Attending specializing in minimally invasive gynecology, her expertise has transformed countless lives. She has been at the forefront of providing comprehensive and compassionate care to women, ensuring they receive the best medical attention.
Dr. Santiago's impact extends beyond patient care, as she embraces the role of Teaching Attending in the Obstetrics and Gynecology Program at Nassau University Medical Center and Plainview Hospital in Plainview, NY. Since October 2018, she has dedicated herself to shaping the next generation of medical professionals, imparting her wealth of knowledge and instilling a passion for women's health.
Dr. Santiago's educational journey has been marked by excellence. She completed her Obstetrics and Gynecology residency at the University of Hawaii in Honolulu from July 2010 to June 2012. Her commitment to education continued as she pursued her Doctor in Medicine at New York Medical College from July 2008 to June 2010. Prior to that, she earned her Bachelor in Natural Sciences, Major in Biology from the University of Puerto Rico in San Juan from August 2000 to May 2004.
Dr. Santiago's commitment to advancing medical knowledge is evident through her extensive research contributions. Her work on robotic-assisted laparoscopic sacrocolpopexy has been presented at prestigious international conferences, including the International Continence Society Annual Scientific Meeting and the American Urogynecologic Society Annual Scientific Meeting. Her research has shed light on innovative surgical techniques that enhance patient outcomes.
Dr. Santiago's commitment to excellence has been recognized through various accolades. She has been honored with the Super Doctors® Rising StarsSM awards in 2020, 2021, and 2022, as well as the Super Doctors® award in 2023. Her dedication to her medical education was acknowledged with Honors in Surgery Clerkship during her time at Ponce School of Medicine.
Dr. Teresita D. Santiago Escalera's journey through the medical landscape is defined by excellence, leadership, and compassion. Her dedication to her patients' well-being, her commitment to education, and her innovative research all come together to create a legacy of transformative impact on women's health. As a fellow of the American Board of Obstetrics and Gynecology and a member of prestigious medical organizations, she continues to illuminate the path towards optimal health and empowerment for all.
---