Shana Hoch
Physician Assistant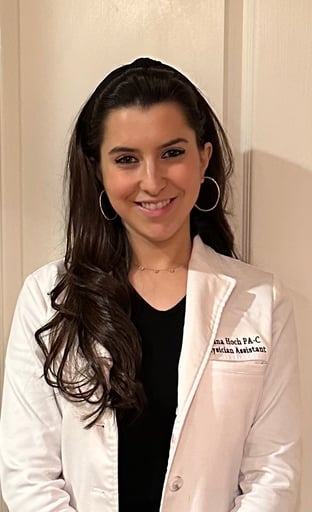 Physician Assistant, PA-C
About Shana Hoch, PA-C
Shana Hoch is a highly skilled and compassionate Women's Health Physician Assistant at Garden OB/GYN, a renowned healthcare provider specializing in obstetrics and gynecology. With her extensive knowledge, clinical expertise, and genuine passion for women's health, Shana is committed to delivering exceptional care to her patients.
Shana earned her Bachelor of Science in Health Sciences from [University Name] and went on to complete her Master of Science in Physician Assistant Studies at [University Name]. She is certified by the National Commission on Certification of Physician Assistants (NCCPA) and maintains active memberships in professional organizations such as the American Academy of Physician Assistants (AAPA) and the Association of Physician Assistants in Obstetrics and Gynecology (APAOG).
Expertise and Comprehensive Care
With several years of experience in women's health, Shana has developed a deep understanding of the unique healthcare needs of women across different age groups. She possesses a wealth of knowledge in areas such as prenatal care, gynecological exams, family planning, contraception, menopause management, and more.
Shana is dedicated to providing comprehensive care to her patients, offering personalized treatment plans tailored to their specific needs and goals. She believes in building strong patient-provider relationships based on trust, open communication, and respect. Shana takes the time to listen to her patients, addressing their concerns, and providing education and guidance to empower them to make informed decisions about their health.
Collaborative Approach and Patient Advocacy
As a Women's Health Physician Assistant at Garden OB/GYN, Shana works closely with a team of experienced OB/GYN specialists, nurses, and support staff. She embraces a collaborative approach to patient care, fostering a multidisciplinary environment where every member of the team contributes their expertise to ensure the highest quality of care.
Shana is a strong advocate for women's health and believes in the importance of preventive care and early detection of potential health issues. She is passionate about educating her patients about the importance of regular screenings, healthy lifestyle choices, and self-care practices. Shana strives to empower women to take control of their health and well-being, guiding them on their wellness journeys.
Representing Garden OB/GYN
Shana Hoch proudly represents Garden OB/GYN, a trusted and renowned healthcare provider committed to delivering exceptional women's health services. With multiple locations throughout New York City, Long Island and Queens, Garden OB/GYN offers convenient access to comprehensive obstetric and gynecological care.
As a representative of Garden OB/GYN, Shana embodies the organization's core values of compassion, excellence, and innovation. She continuously stays up-to-date with the latest advancements in women's health, ensuring that her patients receive the most current evidence-based care. Shana takes pride in being part of a healthcare team that prioritizes patient-centered care, providing a warm and welcoming environment where patients feel comfortable and confident in their healthcare decisions.
If you're looking for a Women's Health Physician Assistant who combines expertise, compassion, and a patient-centered approach, Shana Hoch at Garden OB/GYN is here to provide exceptional care throughout your wellness journey.
---