Debating Getting the Covid-19 Vaccine?
If you're still debating whether or not you should get the Covid-19 Vaccine here are some facts on why you should.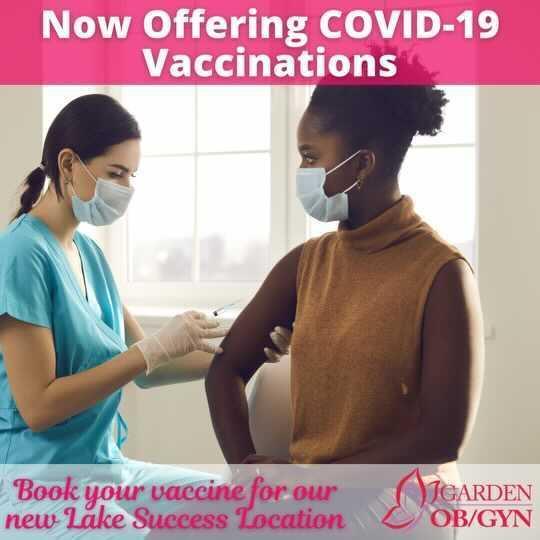 There are a few reasons why the CDC and Garden OBGYN encourage you to get the vaccine:
To reduce your chances of contracting the Covid-19 disease
Helps keep you from getting seriously ill if you do contract Covid-19
To protect those around you
To reduce and stop the spread
As of April 27th, 2021 the CDC had changed their regulations to allow that fully vaccinated people can do the following:
Interact with other fully vaccinated people in an outdoor setting without the use of mask or social distancing
Visit low risk unvaccinated households
Continue domestic travel without the need of Covid-19 testing beforehand
Participate in outdoor activities without need of a mask
Refrain from testing, or quarantining once being exposed to Covid-19
Luckily we have opened a brand-new facility dedicated to vaccinating our patients, including pregnant women, and anyone eligible to receive the vaccine in the greater New York area. Our new facility is located at 3333 New Hyde Park Road, Suite 414, New Hyde Park, NY 11042 and will be administering vaccines Tuesday, Wednesday, Thursday between the hours of 10:00am and 7:00pm.
We will be administering the Moderna vaccine which has proven to be 94.1% effective. If you'd like to be contacted to schedule your vaccine appointment you can fill out the form on our website under "Request Covid Vaccine" or call our office at 516-663-6400.
Sources:
https://www.cdc.gov/coronavirus/2019-ncov/vaccines/fully-vaccinated-guidance.html
https://www.cdc.gov/coronavirus/2019-ncov/vaccines/vaccine-benefits.html?s_cid=10466:should%20i%20get%20the%20covid%20vaccine:sem.ga:p:RG:GM:gen:PTN:FY21
https://www.cdc.gov/coronavirus/2019-ncov/vaccines/different-vaccines/Moderna.html
---