Exceptional Care and Compassion at Garden OB/GYN in Cedarhurst
Discover comprehensive and compassionate women's healthcare at Garden OB/GYN in Cedarhurst! Our expert team offers a range of services, including obstetrics, gynecology, high-risk pregnancy care, fertility treatment, cancer screening, and more. Embrace personalized care and empowerment at every stage of your journey. Schedule a consultation today and experience the difference!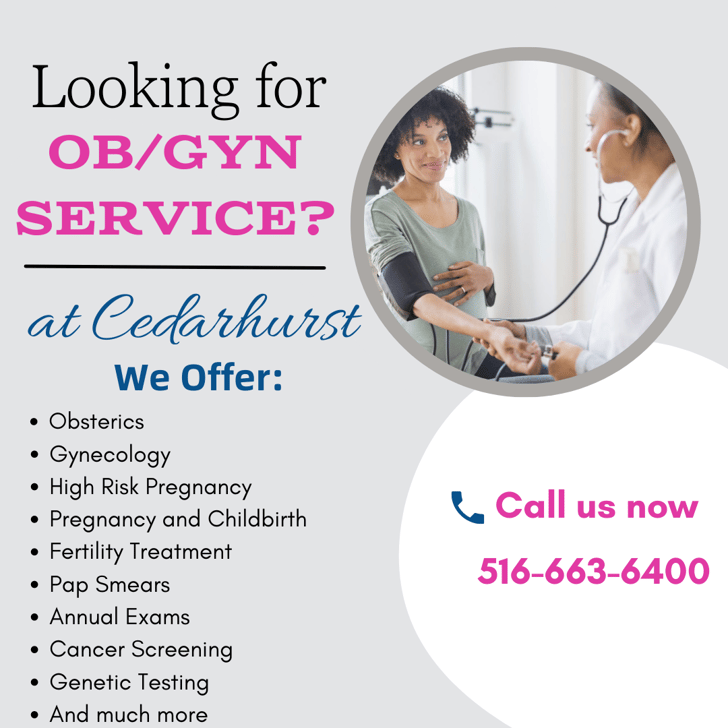 Welcome to Garden OB/GYN in Cedarhurst! We are delighted to provide a wide range of exceptional services tailored to women's health and well-being. Our dedicated team of specialists is committed to delivering compassionate care and empowering women through every stage of life.
Our Services Include:
1. Obstetrics: From preconception counseling to prenatal care and childbirth, our experienced team is here to support you on your journey to motherhood. We prioritize the health and well-being of both you and your baby.
2. Gynecology: We offer comprehensive gynecological care, including routine exams, preventive screenings, and treatments for various gynecological conditions.
3. High-Risk Pregnancy: For expectant mothers with complex medical conditions, we provide specialized care and monitoring to ensure a safe and healthy pregnancy.
4. Pregnancy and Childbirth: Our team is dedicated to providing personalized care throughout your pregnancy and childbirth experience, ensuring a positive and empowering journey.
5. Fertility Treatment: For individuals and couples struggling with infertility, we offer a range of fertility treatments and solutions to help achieve your dream of starting or growing a family.
6. Pap Smears: Routine pap smears are essential for cervical cancer screening, and we perform these tests as part of your preventive care.
7. Annual Exams: Regular annual exams are crucial for maintaining optimal reproductive health and identifying any potential concerns early on.
8. Cancer Screening: We offer comprehensive cancer screenings, including breast and ovarian cancer screenings, to detect and address any signs of cancer at an early stage.
9. Genetic Testing: Our genetic testing services help assess the risk of certain hereditary conditions, allowing for informed decision-making and personalized care.
At Garden OB/GYN, we believe in a holistic approach to women's healthcare, which includes patient education and empowerment. We take the time to listen to your concerns and answer your questions, ensuring that you are actively involved in your healthcare decisions.
Our Cedarhurst office is equipped with state-of-the-art facilities and technology to provide the highest quality care. We are dedicated to staying at the forefront of medical advancements, allowing us to offer the most up-to-date diagnostic and treatment options.
Whether you're planning to start a family, seeking routine gynecological care, or need assistance with fertility, Garden OB/GYN is here to support you with exceptional care and understanding. Schedule a consultation with us today and experience the difference that personalized and compassionate women's healthcare can make in your life.
---