What to Expect at Your First Prenatal Care Visit with the Ob-Gyn
Discover the exciting journey of pregnancy with our blog! In our latest post, we focus on the crucial first prenatal visit. Learn about medical considerations, immunizations, safe medications, and important dietary guidelines. From ultrasounds to bloodwork, we cover it all. Join us and gain confidence as you navigate this incredible journey with your supportive OB team. Stay tuned for more valuable insights!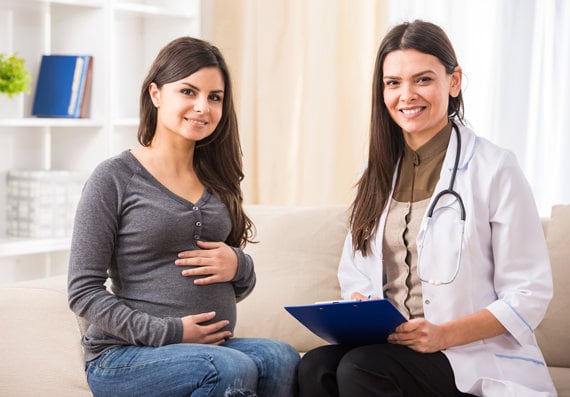 Pregnancy is a very exciting time, but sometimes can also be scary. The first prenatal visit with an Ob-Gyn is a time to go over any underlying medical issues and how they may impact your pregnancy, lay out an overview of visits that will take place during the pregnancy, and to get the first ultrasound. This is also a good time to get to know your ob-gyn, and have your initial questions answered.
First, in order to prepare for your visit, please bring along a copy of your medical records and a copy of your immunization records. During every pregnancy, it is recommended to get the flu shot for the year, and a Tdap booster. Live vaccines are not safe to be given in pregnancy. It is also important to know all of the medications and supplements you are currently taking (including over the counter medications), along with their doses as many medications are not advised to be continued in pregnancy.
During your visit, the ob-gyn will discuss any health issues you may currently have and how they may be impacted by the pregnancy. Some of the most common include diabetes, high blood pressure, seizure disorders, history of anemia, asthma or other breathing problems, or thyroid conditions.
In terms of medications, please discuss with your ob-gyn any prescription medications that you are on so that they can advise you on which are safe to use in pregnancy and what to switch to if any of them are not safe to continue. One over the counter medication to avoid is ibuprofen! Your ob-gyn will also emphasize the importance of taking a daily prenatal vitamin, if you are not already on them. For anyone with a history of anemia, it is also recommended to take iron supplements during pregnancy.
There are some foods that are recommended to avoid as well, including high mercury content seafood such as swordfish, cold cut meats, some soft cheeses (brie, camembert, etc.), and mayo containing salads (potato, egg) that are not fresh from the refrigerator.
It is important for those of you with cats or kittens, to avoid handling or changing cat litter during your pregnancy, as that can be a source of toxoplasmosis infection that is particularly dangerous to the growing fetus.
The exam during the first visit includes a full physical exam to establish a baseline. It also includes an ultrasound to help figure out the due date, and some bloodwork to check electrolytes as well as basic organ functioning. At each visit, your weight and blood pressure along with other vital signs will be tracked, as weight change by trimester can vary.
The visit is an opportunity to speak one-on-one with your provider and get any questions you may have answered in more detail. Hopefully you leave the visit more confident, knowledgeable, and ready to enjoy the rest of your wonderful journey along with your supportive OB team!
---