Arlene Cudjoe
Family Nurse Practitioner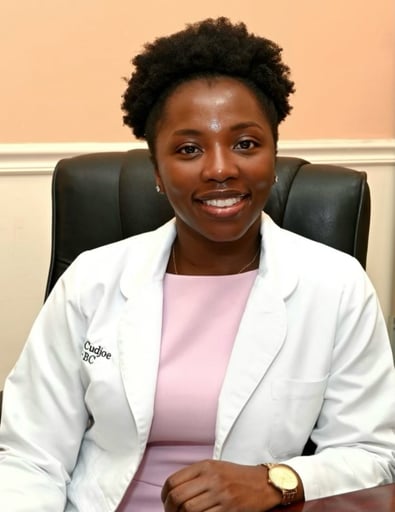 Family Nurse Practitioner, FNP-BC
About Arlene Cudjoe, FNP-BC
Arlene Cudjoe is a highly skilled and compassionate Women's Health Family Nurse Practitioner at Garden OB/GYN, a trusted healthcare provider specializing in obstetrics and gynecology. With her extensive knowledge and expertise in women's health, Arlene is dedicated to delivering comprehensive care and empowering her patients to achieve optimal health and well-being.
Arlene is certified by the American Nurses Credentialing Center (ANCC) and maintains active memberships in professional organizations such as the American Association of Nurse Practitioners (AANP) and the Association of Women's Health, Obstetric, and Neonatal Nurses (AWHONN).
Expertise in Women's Health Care
With her extensive clinical experience and commitment to ongoing education, Arlene provides comprehensive women's health care services to patients of all ages. She specializes in prenatal care, gynecological exams, family planning, contraceptive counseling, menopause management, and more. Arlene believes in a holistic approach to patient care, focusing on preventive measures, health promotion, and patient education.
Arlene takes the time to listen attentively to her patients, understanding their concerns and unique needs. She fosters a warm and supportive environment where patients feel comfortable discussing their health issues openly. Arlene is dedicated to providing personalized and evidence-based care, ensuring that her patients are well-informed and actively involved in their healthcare decisions.
Collaborative Care and Patient Advocacy
As a Women's Health Family Nurse Practitioner at Garden OB/GYN, Arlene collaborates closely with a team of highly skilled healthcare professionals, including OB/GYN specialists, nurses, and support staff. Together, they work collaboratively to provide comprehensive and coordinated care to their patients.
Arlene is a strong advocate for her patients, promoting their well-being and ensuring their voices are heard. She educates and empowers her patients to take control of their health through preventive measures and healthy lifestyle choices. Arlene is committed to establishing long-term relationships with her patients, building trust, and providing ongoing support throughout their healthcare journey.
Representing Garden OB/GYN
Arlene Cudjoe proudly represents Garden OB/GYN, a renowned healthcare provider committed to delivering exceptional women's health services. With a network of locations throughout Long Island, New York City, and Queens, Garden OB/GYN offers convenient access to comprehensive obstetric and gynecological care.
As a representative of Garden OB/GYN, Arlene upholds the organization's values of compassion, excellence, and patient-centered care. She is dedicated to creating a safe and welcoming environment where patients can feel comfortable discussing their health concerns. Arlene continuously stays updated with the latest advancements in women's health to provide her patients with the highest standard of care.
If you are seeking a Women's Health Family Nurse Practitioner who combines expertise, compassion, and a patient-centered approach, Arlene Cudjoe at Garden OB/GYN is committed to providing exceptional care and supporting you on your journey to optimal health and well-being.
Arlene Cudjoe's Blog Posts
---