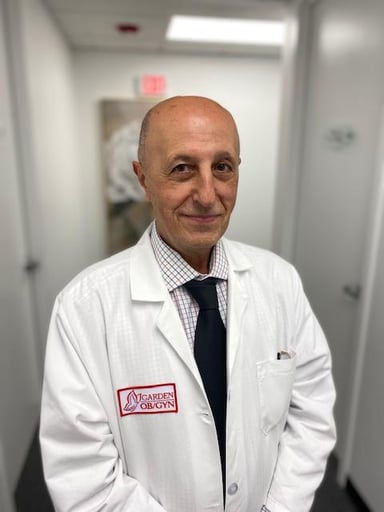 About Dr. Yuri Argov, MD
Dr. Yuri Argov, MD is an Obstetrics & Gynecology Specialist in New York, NY, Garden City, NY and Lake Success, NY. He has over 37 years of experience in the medical field.
Dr. Yuri Argov is a highly accomplished and respected OB/GYN and Gynecologist, renowned for his expertise in women's reproductive health. With his comprehensive knowledge, exceptional surgical skills, and compassionate approach, Dr. Argov is committed to providing exceptional care to women of all ages.
Dr. Argov completed his medical education at Hebrew University in Jerusalem - Hadassah Medical School / Faculty of Medicine in 1985, where he earned his Doctor of Medicine (MD) degree. He then pursued specialized training in obstetrics and gynecology, completing a rigorous residency program at Mount Sinai Beth Israel Medical Center. With a passion for women's health, Dr. Argov further honed his skills through advanced fellowship training in gynecologic surgery and reproductive medicine.
Expertise in Women's Reproductive Health
With extensive experience in the field, Dr. Argov possesses a deep understanding of the complexities of women's reproductive health. His areas of expertise include:
Comprehensive prenatal care and obstetrics
Gynecological examinations and screenings
Contraception counseling and birth control options
Family planning and fertility services
Gynecologic surgeries, including minimally invasive procedures
Treatment of reproductive disorders and menstrual abnormalities
Menopause management and hormone therapy
And more
Dr. Argov takes a patient-centered approach to care, ensuring that each woman receives personalized treatment tailored to her specific needs and goals. He believes in empowering his patients through education, allowing them to make informed decisions about their reproductive health.
Passion for Women's Health and Birth Control Options
Dr. Argov is deeply passionate about women's health and is dedicated to providing comprehensive and evidence-based care. He understands the importance of birth control as a fundamental aspect of reproductive health. Dr. Argov is well-versed in the wide range of birth control options available today, including hormonal contraceptives, intrauterine devices (IUDs), implants, barrier methods, and permanent sterilization.
As an advocate for reproductive choice, Dr. Argov ensures that his patients have access to accurate information about different birth control methods. He takes the time to discuss each option's benefits, risks, and suitability based on individual circumstances, empowering women to make informed decisions about their reproductive choices.
Providing Compassionate and Personalized Care
Dr. Yuri Argov believes in building strong relationships with his patients, fostering trust, and creating a safe and comfortable environment. He understands that discussing reproductive health can be sensitive and personal, and he approaches every consultation with empathy, compassion, and respect.
With his attentive and caring demeanor, Dr. Argov ensures that his patients feel heard and understood. He takes the time to answer questions, address concerns, and provide comprehensive explanations, allowing women to actively participate in their healthcare decisions.
Representing Excellence in Women's Health Care
Dr. Yuri Argov proudly represents Garden OB/GYN, a renowned healthcare provider committed to delivering excellence in women's health care. With a team of highly skilled practitioners and state-of-the-art facilities, Garden OB/GYN ensures that each patient receives the highest standard of care.
As a prominent member of the Garden OB/GYN team, Dr. Argov contributes to their mission of providing comprehensive and compassionate care to women. He combines his expertise, genuine passion for women's health, and dedication to staying at the forefront of advancements in the field.
Schedule an Appointment with Dr. Yuri Argov
If you are seeking exceptional OB/GYN and gynecological care, Dr. Yuri Argov and the team at Garden OB/GYN are here for you. Schedule an appointment to discuss your reproductive health, birth control options, or any other women's health concerns. Take the first step towards optimal health by contacting our office today.
Dr. Yuri Argov's Blog Posts
---