Long Island, NY Hospital Affiliations
We are proudly affiliated with Mercy Hospital, Huntington Hospital, & Good Samaritan Hospital on Long Island, NY to deliver babies for our patients being seen in our Massapequa, NY, Commack, NY, and other Long Island offices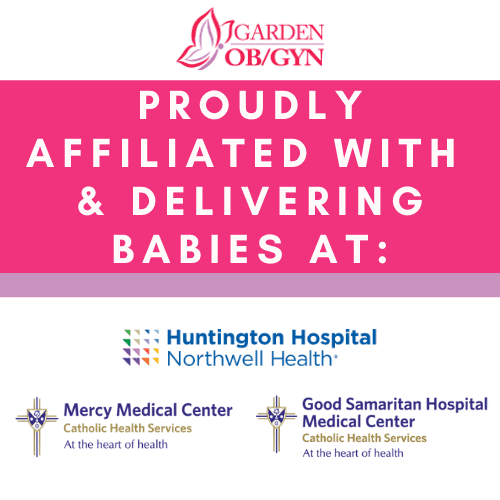 We are proudly affiliated with Mercy Hospital, Huntington Hospital, & Good Samaritan Hospital on Long Island, NY to deliver babies for our patients being seen in our Massapequa, NY, Commack, NY, and other Long Island offices.
If you are pregnant and are looking for a top Massapequa obgyn or Commack pregnancy doctor to care for your pregnancy, Garden OB/GYN proudly offers attentive, personalized, and thorough medical care for you and your baby. Our practice has 9 convenient locations in Commack, Massapequa, Garden City, and New Hyde Park, Long Island, and Queens and Manhattan.
If you plan to deliver your baby on Long Island, we are thrilled to offer you the opportunity to do so in Northwell Health's Huntington Hospital, as well as Catholic Health Services of Long Island's Mercy Hospital or Good Samaritan Hospital.
Hospitals affiliated with Garden OB/GYN include:
Good Samaritan Hospital Medical Center of Catholic Health Services
Long Island Jewish Forest Hills of Northwell Health
Huntington Hospital of Northwell Health
Southside Hospital of Northwell Health
Lenox Hill Hospital of Northwell Health
Mount Sinai West
South Nassau Communities Hospital
New York-Presbyterian Hospital
To view our comprehensive list of all our affiliated hospitals and delivering hospitals please click here.
---